The bells of St. Etheldreda's Church have been ringing out across Old Hatfield for hundreds of years, calling parishioners to Sunday services, celebrating weddings, ringing joyfully on Christmas day and marking other high days and holidays such as, in 2012, the Queen's Diamond Jubilee and the opening of the Olympic Games. The bells also play an important role on Remembrance Sunday when they are rung respectfully half-muffled. Love them or hate them, there is no denying that church bells are a longstanding tradition and part of English life and culture!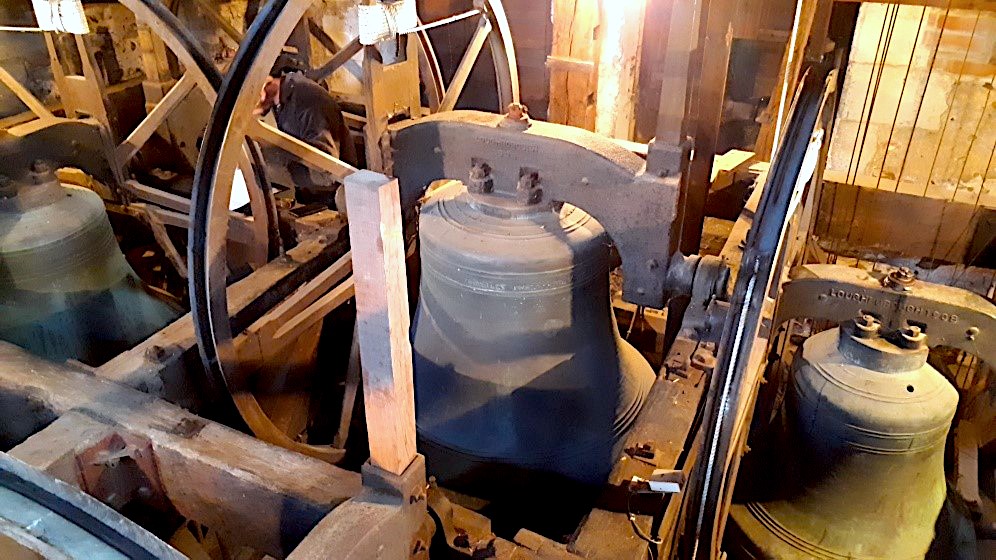 St. Etheldreda's bells date back over 400 years to the early 17th century. We know that there were 'five large bells' in the church tower (plus a Sanctus bell) in 1610, and the 17th century pub at the bottom of Fore Street was called, in their honour, The Five Bells. In 1739 three new bells were added to the tower, and to keep up with the times the pub's name was changed to The Eight Bells.
These eight bells, together with their original wooden frame which was reinstalled in 1786, are still there to this day, and continue to be rung regularly. In 1929 two treble bells were added in memory of Rupert Edward Gascoyne Cecil who was killed at Ypres in 1915. This time, however, The Eight Bells pub was not renamed, supposedly - so the story goes - because the Rector at the time refused to allow it because it was not a 'church pub'. In any event, the pub has remained 'The Eight Bells'.
The friendly team of ringers at St Etheldreda's are a mixed bunch: our older members are enjoying retirement, while our youngest member is in his early teens. Although ringing was, until the first half of the 20th century, an almost exclusively male pastime, times have changed and we have slightly more women than men in our team. Practice sessions are held most Thursday evenings throughout the year. Visiting ringers from other towers are always most welcome, and we are also delighted to welcome anyone who is interested in learning how to ring (or simply curious to find out what ringing is all about).
Ringing is fun, very friendly and social, good exercise (particularly for toning the arms!) and FREE. You don't need to buy any equipment, or be musical or especially strong. Nor do you need to be a regular churchgoer. Like riding a bicycle, given a little time and effort almost anyone can learn how to do it.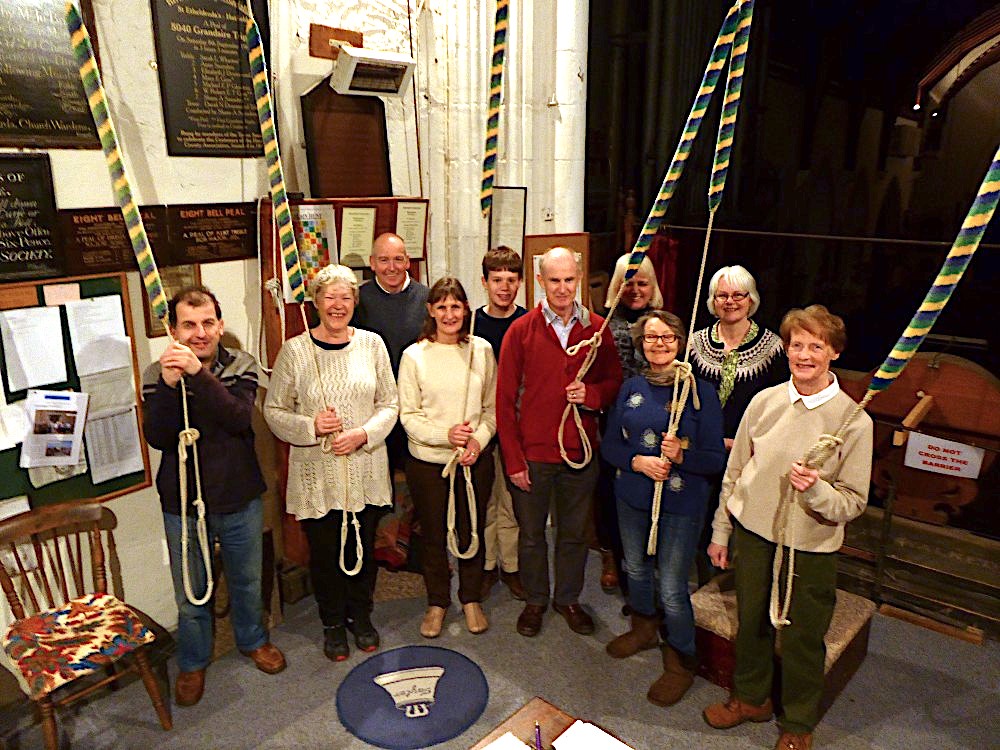 We have 10 bells at St. Etheldreda's (the heaviest being 23 cwt) and sadly we rarely have enough experienced ringers to get them all ringing together, so we actively encourage new ringers and will train you up to ring as part of the team. Do come along! You are assured a warm welcome and we'll be very pleased to explain how ringing works, show you what we do, and even help you to have a try at ringing yourself.
Should you decide that you'd like to 'learn the ropes' you'll have a hobby that will allow you to visit and ring at bell towers across the country (and beyond). Who knows, you might even graduate to getting paid to ring the bells for weddings!
So, if you would like to find out more and give bell ringing a go then come along to St Etheldreda's church tower on a Thursday evening between 8pm and 9.15pm, or contact:
Mary & Rob Goss
01438-718038
mary.rob.goss@gmail.com